The Marina Bay Sands in Singapore is a resort city designed by Moshe Safdie, an Israeli born architect. It features a museum complex, an exhibition center, a theatre, mall, and a sprawling hotel. Here are the top must-see attractions in Marina Bay, Singapore.
Gardens by the Bay
Gardens by the Bay are a futuristic, colorful, and huge park in the Singapore bay area. The famous Supertree structures are the most notable features here. Visitors to this place can go over the impressive skywalk over the gardens. There are hundreds of plants and trees to discover and is a great destination for both adults and kids and simply for anyone looking for stunning views.
Marina Bay Sands Hotel
This hotel hosts one of the most lavish hotels on the entire globe. There are 3 55-storey towers connected by SkyPark where you can head up for a drink, shop, swim in the rooftop pool, or catch a show. At the Marina Bay Sands Hotel, the world is your oyster.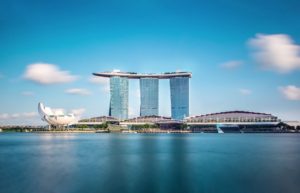 Walk the Helix Bridge
The Helix Bridge is inspired by the structure of human DNA and is a pedestrian only bridge linking the Marina South and Marina Centre in the Bay Area. It has 4 strategically located viewing platforms that give you the best views of Marina Bay and the city's skyline. It is the ideal selfie worthy backdrop.
Shoppes at Marina Bay Sands
This shopping center is located on the waterfront and features a collection of the famous luxury brands from across the world all under one roof. You can also experience the state-of-the-art theatres, exhilarating nightlife, and fine dining with celebrity chefs.
Art Science Museum
The Art Science Museum is shaped like a bunch of bananas and sits on the waterfront. It offers visitors a wide range of displays, from Harry Porter to Dali. A visit here is both educational and entertaining as the museum is based on exploring the links between science and arts.
Stroll the City by Night
The party never stops at Marina Bay even at night. You can take a magnificent walk down the waterfront to some of the most luxurious clubs you have ever seen. Just walk around and you will definitely find the perfect thing to do.
The Merlion Statue
Merlion Statue Park is a landmark near Singapore's Central Business District. The Merlion is a mythical creature with the body of a fish and a lion's head that is often used as a mascot and Singapore's national personification.